Discussion Starter
·
#1
·
Bobby Cleveland
is the proprietor of
Cleveland's Holsters LLC
located in West Allis, Wisconsin.
https://clevelandsholsters.com/
https://www.facebook.com/pages/Clevelands-Holsters-LLC/119323708154588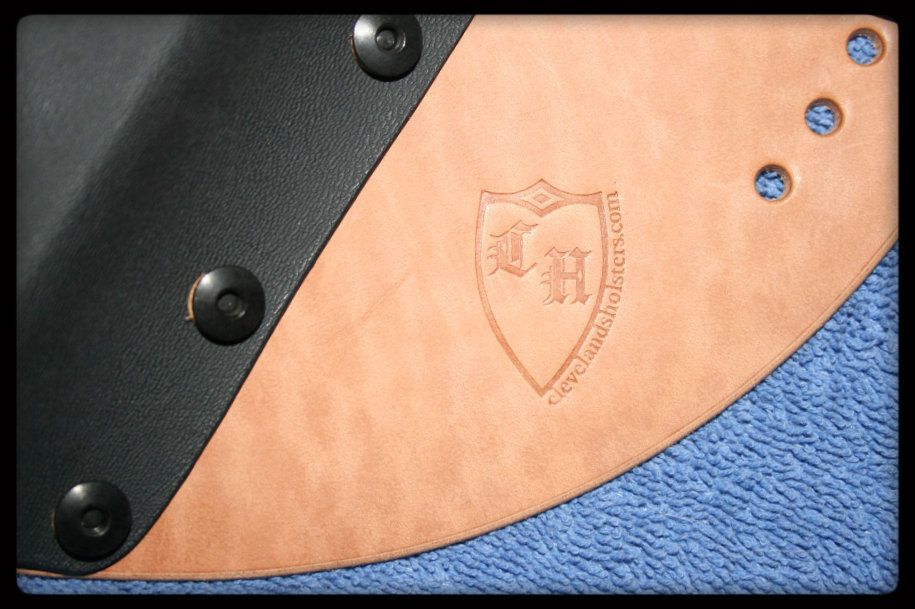 Bobby was gracious enough to send us
two
holsters to test and review for the members here. One for a Glock 30SF and one for a Colt 1911a1.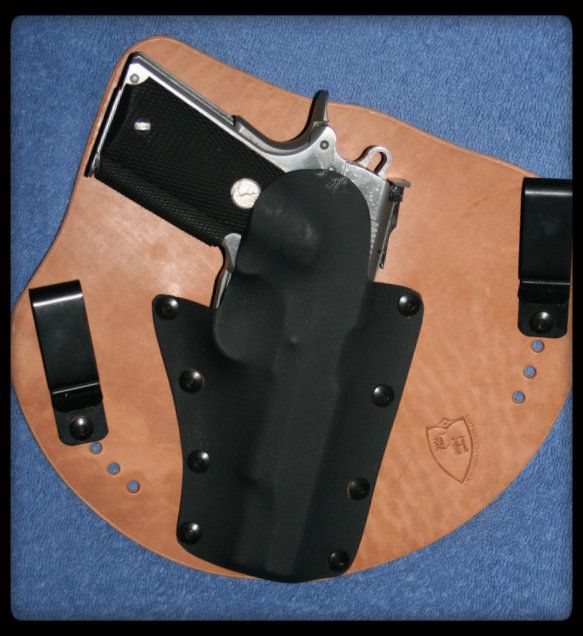 Cleveland's Holsters are made from 100% American manufactured materials and are produced for a variety of pistols and revolvers. The two styles offered are the
CUT
: which provides the wearer minimal yet adequate firearm coverage protecting and padding it from the body, and allows for a quicker presentation and access to the trigger...and the
UNCUT
: which provides the wearer full coverage of the firearm padding the sharp edges while protecting it from perspiration. Colors options include the natural tan or a dyed jet black.
The main components of the two holsters sent for review are tanned Horsehide and Kydex. Bobby uses American Horsehide because it is a denser leather than cowhide, making it rugged yet comfortable. This material also helps to keep the firearm isolated from the body and acts as a barrier to naturally corrosive sweat. Horsehide also molds itself to your frame and retains that shape the more you wear it. For added comfort, the edges of the horsehide are burnished to provide a comfortable fit, a smooth finish, and to discourage the peeling of the leather over time.
Kydex is a line of thermoplastic acrylic-polyvinyl chloride materials vacuum formed by Bobby to the dimensions of the firearm type you've ordered for an exact fit. The high profile design of the Kydex mold positions the mouth of the holster above the beltline, thus allowing for a secure one-handed reholster of the firearm. In addition the design acts as extended protection of the frame as well as the entire slide and barrel.
Adjustable retention is achieved by American manufactured screws of solid brass that have been oxidized to a non glare black finish. As the leather stretches from wear, these screws can be tightened to regain retention.
The seven position "J" shaped belt clips are manufactured from sturdy American steel and are also oxidized to a non glare black finish and can be worn both over the belt or under the belt and will allow the wearer to tuck in their shirt for a deeper concealment. These can easily be swapped out for a set of Kydex belt clips for a nominal charge. Cleveland's Holsters offer 49 positions of cant ( position and angle of the firearm ) to enable the wearer to orientate the holster to their preference.
Each Cleveland Holster is backed by a 100% non-prorated Lifetime Guarantee. If you ever have a problem with any Cleveland Holster due to defects in materials or craftsmanship...simply ship it back and it will be repaired FREE of Charge !!